Your smile is recreated to best suit your face.
At our centre, we recreate smiles for patients and make them feel more confident. The designing procedure starts with taking history of patient and taking into note what changes they expect. This is followed by :
Pre-operative Photographs : Before the start of smile designing treatment, photographs are taken to assess the smile of patient and design a treatment plan.
Digital Designing : At our centre we use digital smile designing software wherein using the software, we prepare a mock up of how the patient would look after smile designing treatment.
Mockups : Patient is shown before the start of the treatment, what the final result will be. After the patient approves it, using composite or pocelain veneers, smile designing is done.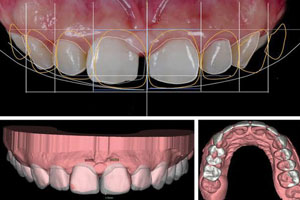 (Digital Smile Designing)